"Curcumin" for Body's Immunity
Siukan Law1*, Dawn Chingtung Au1, Albert Wingnang Leung2, Chuanshan Xu3
1Faculty of Science and Technology, The Technological and Higher Education Institute of Hong Kong, Tsing Yi, New Territories, Hong Kong
2School of Nursing, Tung Wah College, 31 Wylie Road, Ho Man Tin, Kowloon, Hong Kong
3Key Laboratory of Molecular Target and Clinical Pharmacology, State Key Laboratory of Respiratory Disease, School of Pharmaceutical Sciences & Fifth Affiliated Hospital, Guangzhou Medical University, Guangzhou 511436, China
*Corresponding author: Siukan Law, Faculty of Science and Technology, The Technological and Higher Education Institute of Hong Kong, Tsing Yi, New Territories, Hong Kong
Article History
Received: February 25, 2022 Accepted: February 25, 2022 Published: March 03, 2022
Citation: Law S, Au DC, Leung AW, et al. "Curcumin" for Body's Immunity. Int. Jr. Infect Dis & Epidemlgy. 2022;3(2):50‒51. DOI: 10.51626/ijide.2022.03.00020
Abstract
---
"Curcumin" is a traditional Chinese medicine used in China for a long time ago. It possesses a series of biological properties including antioxidant, anti-inflammatory, antiviral, antimicrobial, and antitumor functions to enhance the body's immunity. This article describes the background, research progress of curcumin and its usages such as health supplements and tea daily life.
Keywords: Curcumin; Traditional Chinese Medicine; Body's Immunity; Health Supplements; Tea
Introduction
---
Turmeric is a natural herbal and used as a spice in a wide variety of food. The active ingredient is called "Curcumin" derived from a Curcuma longa plant belonging to the Zingiberaceae family. It is a short-stemmed perennial and grows about 100 cm in height with curved leaves, oblong, ovate, and cylindrical rhizomes [1]. According to traditional Chinese medicine (TCM) theory, the nature of curcumin is warm; bitter, and pungent in taste. This classifies as an "invigorating the blood" category [2], which stimulates blood flow, circulation, and relieves pain [3].
Research Progress
---
Growing evidence has shown that curcumin possesses a wide range of biological activities, such as antioxidant, anti-inflammatory, antiviral, antimicrobial, and antitumor properties (Table 1).
Table 1: Biological activities of curcumin for some diseases.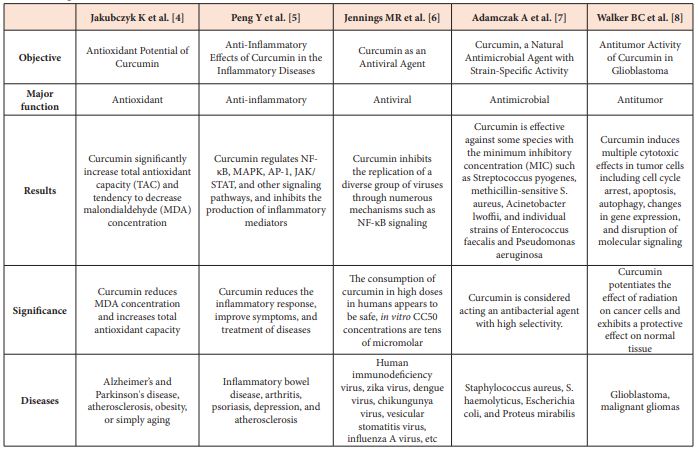 Health Supplement
---
Apart from the treatment or flight against some diseases of curcumin, it is also used as a health supplement in daily life to enhance the body's immunity. Peterson CT et al. reported the effects of turmeric and curcumin dietary supplementation on human gut microbiota. The results have shown that 1000 mg turmeric-treated subjects displayed the modest 7% increase as following species: Clostridium spp., Bacteroides spp., Citrobacter spp., Cronobacter spp., Enterobacter spp., Enterococcus spp., Klebsiella spp., Parabacteroides spp., and Pseudomonas spp., while 1000 mg curcumin displayed an average increase of 69% to combat these species [9].
Tea
---
Turmeric tea is one of the popular drinks nowadays since curcumin has low bioavailability, which is brewed using grated turmeric root or pure powder to have higher concentrations of biologically available and promote its absorptivity within the body. There are some simple steps for the preparation of turmeric tea:
(i) Take around 400 mL (4 cups) of water and boil it
(ii) Add 1 g (1 to 2 teaspoons) of turmeric to the boiling water
(iii) Stir the mixture for 5 to 10 mins continuously until the turmeric completely dissolve
(iv) Transfer it to a tea container and allow it to cool at room temperature
Based on the JECFA (The Joint United Nations and World Health Organization Expert Committee on Food Additives) and EFSA (European Food Safety Authority) reports, the Allowable Daily Intake (ADI) value of curcumin is 0-3 mg/kg body weight. It is around 1 to 3 grams daily intake for adults [10].
Conclusion
---
The above information demonstrates that curcumin can enhance the body's immunity through its antioxidant, anti-inflammatory, antiviral, antimicrobial, and antitumor properties with the usage as a health supplement or tea. However, much more works need to be done for the future development of curcumin.
References
---